Click here for a FULL CV

Created and performed by Kunji Ikeda
"If the Japanese Internment didn't happen, I wouldn't be alive today."
Using dance, theatre, and humour Kunji Ikeda tells the story of one of Canada's darkest decisions, and unwraps how racism of past generations has affected the Japanese community today.
8 Bit: The Video Game Dance Show (Spring 2019)
Two step-brothers have never seen eye-to-eye; one is a scientific genius, the other is an avid gamer. When a scientific experiment goes awry, the two are sucked into a video game world. Can they learn to play with two-players when their lives are on the line?
Created by: Kunji Ikeda
In collaboration with: Richard Lee Hsi
CLICK HERE FOR MORE INFO ON 8 BIT

SCORCHED (Spring 2019)
Choreography – Kunji Ikeda
Choral Directior – JL Bleau
Collaborators – ARTIO Choir, Jamie Tognazzini, Maryn Bjorndahl, Jared Ebell, Graeme Lauzon, Cory Beaver, Jason Owin Galeos, Mia Lyndon
Lights / Projection – Owen Day
Costume Design – Joanne Ikeda
Know the Rules, Win the Game (Fall 2018)

Choreography – Kunji Ikeda
In collaboration with – Richard Lee Hsi
Dramaturg – Karen Hines
Composer – Darren Young
Set / Projection Design – Jenny Vallis
Costume Design – Joanne Ikeda
CLICK HERE FOR MORE INFORMATION ON Know The Rules, Win the Game

The Golden Penis (Spring 2017)
Choreography – Kunji Ikeda
Collaborators – Meghann Michalsky, Jamie Tognazzini, Quinn Kwieler, Genevieve Pare, Matthew Hall, Dylan Forkheim, John Harwood, Sam Malone, Graeme Lauzon ,Jared Ebell, Conrad Bleu, Cory Beaver, Michael Rolfe
Lights – Geoff Buchanan
Costume Design – Joanne Ikeda
Composition – Jared Herring, Peter J. Vooys
When to Give a Sword pt. 1 (Fall 2016)
Choreography – Kunji Ikeda
Lighting Design – Steve Isom
Costume Design -Jonanne Ikeda
Collaborators – Jared Ebell, Dylan Forkheim, John Harwood, Matthew Hall, Kunji Ikeda, Kevin Jesuino, Graeme Lauzon, Simon MacLeod, Sam Malone, Michael Rogers
https://youtube.com/Ygm3zBcMfq4
Examining the patriarchy, male privilege, and the masculine identity in a piece that weaves together physical narratives and stunning imagery.
SUM (Summer 2016)
Choreography / Direction – Kunji Ikeda
Composition – Nathaniel Schmitt
Musical Performance – Timepoint Ensemble
Collaborators: Ian Buchanan, Christopher (Niku) Dhillon, Marcy Lannan, Grayson Ogle, Mai Tahara
Uniting the musicality of the Timepoint Ensemble (Calgary's most daring new musical ensemble), with the choreography of Kunji Ikeda.  Twisted tails from the afterlife are interpreted through the physical and auditory perspective.
Invocations: Cries in the Dark (Spring 2016)
Choir Direction – Jean-Louis Bleau
Choreography – Kunji Ikeda
Lighting Design – Anton DeGroot
Costume Design – Harold Vasquez
When the profoundly beautiful sound of the Artio Choir  is combined with haunting choreography a new art form is created: CHORAL THEATRE.
This narrative uses the rich fabrics of movement and choral voice to examine humanity's reliance and turbulent relationship with fossil fuels told through a diverse program of choral works. This is choir like you've never seen before!
When Words Fail (Summer 2016)
Created and Performed by Kunji Ikeda and Richard Lee
A fully improvised dance-theatre format developed and performed by Richard Lee and Kunji Ikeda. Based off of a single audience suggestion, Lee and Ikeda weave a 45 minute story told through text and dance. Audiences can expect the humour and sense of play of improvised theatre, as well as the athletic and inventive physicality of a high-octane contemporary dance show.
where there is no path (2015)
Choreography: Kunji Ikeda
Collaborators: Catherine Hayward, Sylvie Moquin, Kate Stashko
Music by Max Richter
Presented as part of Dancers' Studio West's MYTHBEHAVIN' in the summer of 2015.
I think mythology is the homeland of the muses, the inspirers of art, the inspirers of poetry. To see life as a poem yourself participating in a poem is what the myth does for you. – Joseph Campbell
Joseph Campbell's classification of myth has provided a framework to devise our own narrative. This organizing principle gave me the freedom to build the performance material into a new physical myth. We explore the hero's call to adventure, encounters along the way, and the darkness in the heart of the forest where there is no path.
I gratefully acknowledge One Yellow Rabbit, the University of Calgary, MoMo Dance Theatre, and Dancers' Studio West for helping me see the way through my own forest. I congratulate the courageous Owl, Deer, and Coyote who have trusted my unorthodox methods in building Where there is no path.
Sansei The Storyteller
where there is no path
When Words Fail
Surely Tomorrow
MoMo Dance Theatre  (2013-2015)
I Didn't Wear My Raincoat (2015)
Mr Geppetto (2015)
Fly With Us (2014)
Neither Up Nor Down (w/ Anita Miotti) (2014)
What Moves Us (2014)
The Hat (2013)
2014 Compilation (4:25)
Surely Tomorrow
8 Bit: The Video Game Dance Show
We Don't Look Back (the seed of Sansei)
Imagination in Motion (workshop outcomes)
Skillfully Stuffed Memories
Immediate Swoons
Surely Tomorrow (2013)
Choreography: Kunji Ikeda
Collaborators: Jared Herring, Shelby Holt, Margarita Kozhevnikova
Lighting Design: Ajay Badoni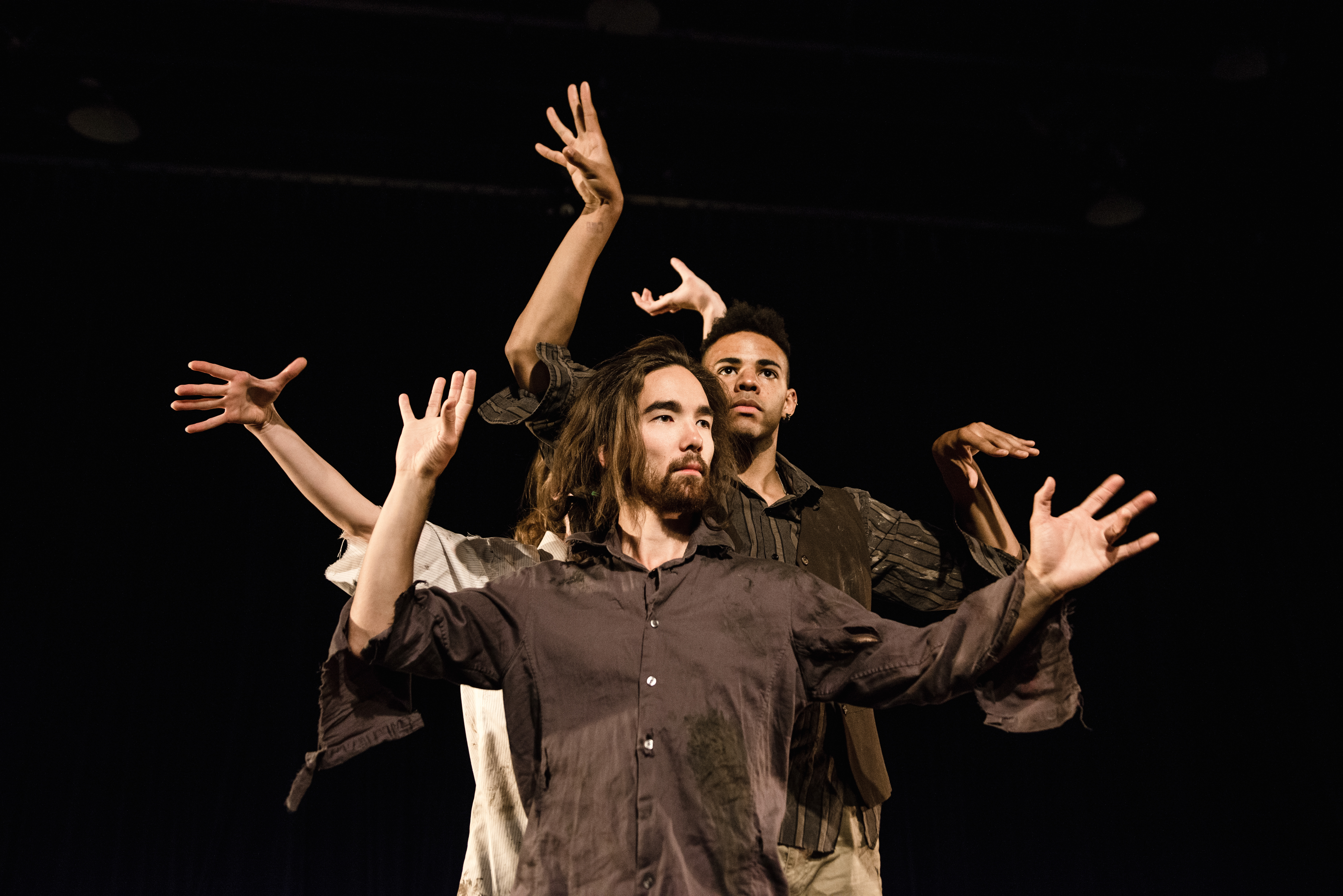 Presented as part of Dancers' Studio Wests' Alberta Dance Festival 2013
Collaborators: Jared Herring, Shelby Jansen, Margarita Kozhevnikova
Based on images and themes in Waiting for Godot.
RADIOHEADED 2 & 3
Created by: Denise Clarke
Assistant Director: Kunji Ikeda

A listening party to watch unfolds before your eyes as over 20 beautiful young artists physically interpret the works of Radiohead. Radioheaded 2 examines the lust, passion, and heartbreak of the album In Rainbows, while Radioheaded 3 goes much darker in the enslaved resistance of Hail to the Thief.
Previous Works (2011-2014)
Old School Compilation – (13:01)
Immediate Swoons (3:11)
Skillfully Stuffed Memories (2:01)
8: Bit (1:35)
Mating Season (2:00)
The House Project (1:00)
The Simplest of Complicated Acts (2:30)
Chez Chantyville (With Chantal Wall)
A nervous new chef is inspired simultaneously by fear and admiration as he comes into contact with his supervisor, the best chef in the country. Set to a Mozart violin etude (adapted and performed by Laura Reid), this dynamic piece of dance theatre chops, simmers, and flambés it's way into your heart.
Performed:
FODA: A Culinary Cabaret
In a Cafe…
Three storylines entwine and entangle as three performers make sense of unique instances of transition in their lives. Can something beautiful come out of three messes?
Performed:
Fluid Festival 2013
Imagination in Motion
A workshop presentation of new skills examining the otherworldly by recent graduates of the University of Calgary's Department of Drama. These actors take a step outside their comfort zone through dance and movement to understand how movement can tell a story.
Workshop Performance:
University of Calgary
Immediate Swoons
Two young friends are torn apart before they understand the depths of their friendship. When each finds themselves in dire situations later in life, they both turn to reflect on the good old days with one another. Through dance, text by Kunji Ikeda and Kara Sturk, and scored to Donovan Seidle's original composition Chinook, an interdisciplinary narrative takes shape with dynamic outcomes.
Performed:
Sage Theatre's Ignite Festival
FEATS Festival of Dance
One Yellow Rabbit Summer Lab Intensive
Skillfully Stuffed Memories
A love story through the ages; a dynamic mix of dancers and actors team up to show the first meeting, the courtship, the love, the difficulties, and the elderly side of one relationship.
Performed:
Dance Montage – The University of Calgary
The House Project
Two of the strangest clowns are inspired by the dark remembrances of a sealed room in a condemned house. Can they escape their constraints in a site-specific marathon performance using visual stimulus from visual artist Daniel J Kirk.
Performed:
The House Project – Swallow-A-Bicycle
The Simplest of Complicated Acts
What does it feel like the moment you are about to go out on a limb, to put yourself in the most vulnerable position, and admit your depths of feelings for the first time? Set to the sweeping thoughts of Camille Saint-Saen's organ symphony, can this young man engage in the simplest of complicated acts?
Old School Compilation – (13:01)
Immediate Swoons (3:11)
Skillfully Stuffed Memories (2:01)
8: Bit (1:35)
Mating Season (2:00)
The House Project (1:00)
The Simplest of Complicated Acts (2:30)